About Volmaster FX
Now available also on Refinitiv (LSEG) Eikon platform
Volmaster has released a new edition of its acclaimed VolMaster FX Pricing App, available to users of Refinitiv (LSEG) flagship Eikon platform:
(if your browser does not correctly embed or display the video, please click on this external link)
A New Generation of Financial Software
Volmaster brings to the market community a new pricing paradigm, based on transparent and academically-backed models and capable of unrivalled speed, performance and accuracy. No black-boxes. No questionable price adjustments.
Volmaster implements several high-end features, while maintaining a simple and intuitive user interface:
Native pricing in stochastic volatility, including 1st and 2nd order greeks
Rich model specification, with time-dependent parameters
Arbitrage-free volatility surfaces both in strike and in time dimensions
Unrivalled pricing speed, massively parallel computation engine
Wide range of exotic options coverage
Streamlined one-click model calibration
Flexible market datasets, mapped to your organization
Ergonomic user interface, instant responsiveness
Full bid/ask spread pricing, with smart netting capabilities
Predefined and user-defined option strategies
Advanced stripping tools, rules-based
SingleLeg and MultiLeg pricing up to 1000 legs with multiple solvers
Economic events volatility adjustments and automatic cut conversions
Credit/Counterparty risk adjusted pricing, rating-based
Zero-cost Infrastructure: No Servers Required, No maintenance.
Volmaster allows the financial community to perform the transition into high-end stochastic volatility pricing without the massive investments in hardware and human capital required by in-house solutions. Deployed as an on-line tool over the internet, it is always available and automatically updated. Just connect your pc to the internet and login!
By following the business model of software-as-a-service (SaaS), Volmaster delivers a fully functional solution to your desktop at a fraction of the typical cost. Volmaster is not simply a browser tool, but a virtualized and sandboxed Windows application running in your desktop. Volmaster can be integrated with your existing infrastructure, by connecting to STP solutions, streamlining the daily business and avoiding manual bookings.
Future-Proof
Volmaster delivers a unique pricing technology that is several order of magnitudes faster than traditional pricing methods. As our brekthrough methodology is model-agnostic, Volmaster can implement new pricing models by just providing a mathematical description of the stochastic processes, without re-coding all option classes for a particular model. The implementation of a new model propagates to all option classes automatically. As a result, Volmaster can evolve with progresses in academic research and apply new models in a very short time-frame.
Volmaster's internal open architecture can price virtually any contingent claim in the desired stochastic volatility model, including user-defined option classes. Therefore, Volmaster can help innovative firms to reduce significantly the time-to-market of new financial products.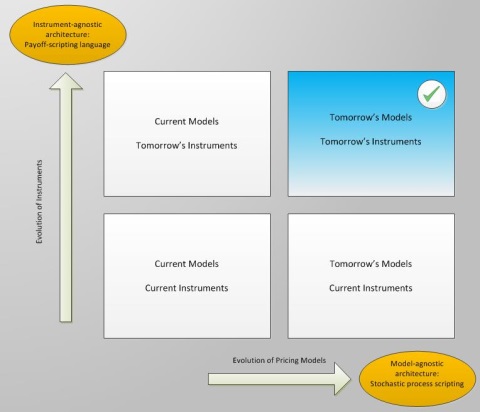 Due to its expandability both in terms of pricing models and in terms of instrument coverage, Volmaster is a future-proof pricing platform that can satisfy the needs of the market community for future innovations of financial models and future generations of exotic options.