Volmaster FX Derivatives Pricer
Volmaster FX is the most cutting-edge pricer for FX options and FX derivatives on the market, natively built around advanced stochastic volatility models.
Volmaster FX flexible licencing system meets the requirements of market participants of any size and sophistication, banks, investment funds, insurance companies, corporations, auditors.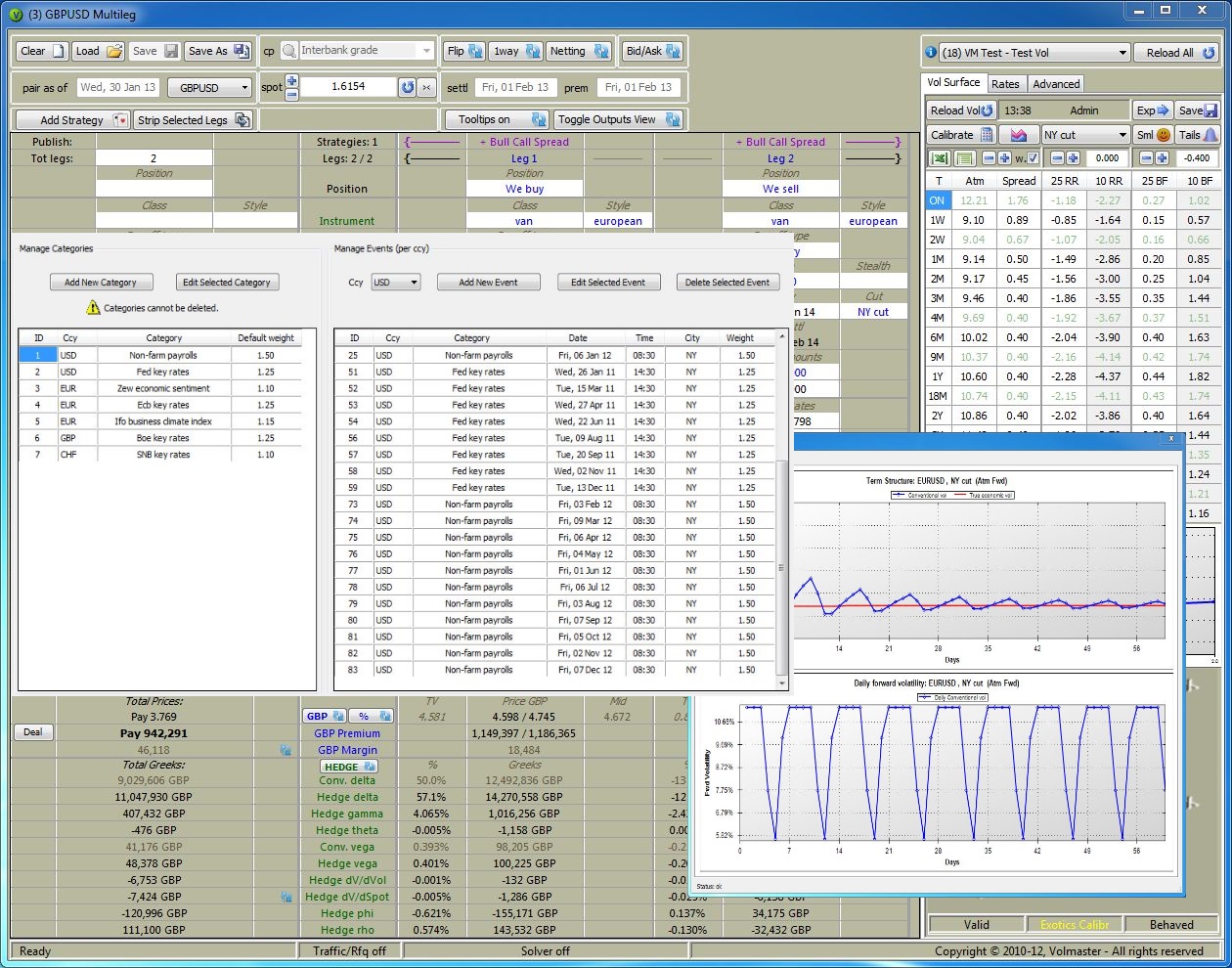 No matter whether you only price simple vanillas or complex exotics, Volmaster FX offers you superior pricing capabilities. No matter whether you are an occasional market participant or a high-end market maker, Volmaster FX adapts to suit your needs and budget.
Probably the fastest SLV (stochastic-local volatility) pricer on the planet
In modern high-pace markets, speed is imperative. Due to the sheer complexity and computational requirements of advanced pricing models, most market participants encouter severe performance issues with other software solutions. Thanks to its innovative computing technology, Volmaster FX allows traders and sales to price large structures of vanillas and exotics fast, accurately and reliably. With a raw revaluaton speed of few thousand exotics per second (available to each Volmaster user), Volmaster FX is probably the fastest existing pricer, by far. As an example, such performance allows users to price a large strip of exotics with a solver (such as a zero-cost strip of forward extras) practically in real time.
Master the Volatility Surface
The volatility surface is the most important element for pricing options. Mastering the volatility surface is absolutely essential to effectively control option pricing. Volmaster FX allows traders to manage the volatility surface by just entering the most liquid strike/volatility pairs: atm volatility, 25 delta butterfly and 25 delta risk-reversal. All user inputs follow broker's conventions. Advanced users may also handle extra settings to manage tails asymptotes. Volmaster FX creates smooth and arbitrage-free smile curves based on stochastic volatility models. As smile curves are grounded in a financially meaningful model and not the result of an interpolation/extrapolation process, Volmaster FX avoids by construction a number of issues encountered with a simplicistic approach to smile generation.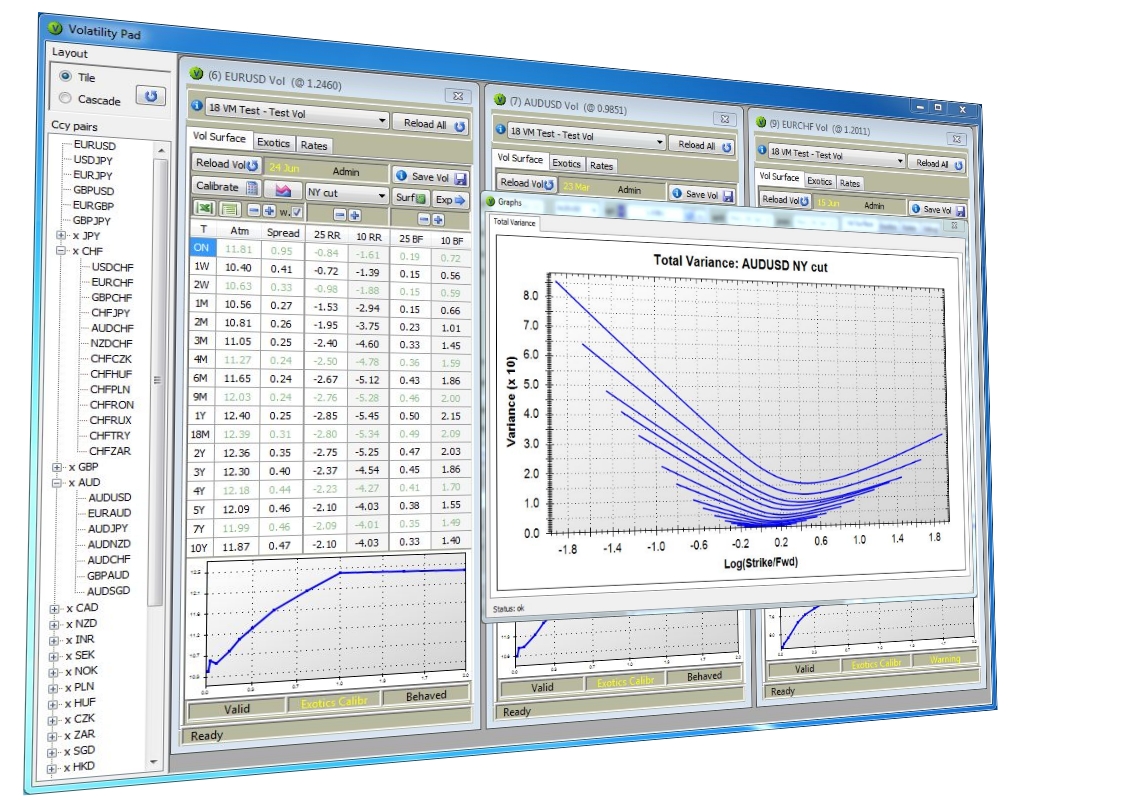 Some features of Volmaster FX handling of volatility surfaces:
Consistent shape of volatility smile
Arbitrage-free smile in strike dimension
Arbitrage-free smile in time dimension
Advanced handling of asymptotes
Time interpolation on the full shape of the smile curves
Surface calculation and validation in real-time
Keeps consistency for a change of broker conventions over time buckets
Volatility smile adjusted for week-ends and economic events
Automatic volatility conversions for different time-cuts
Parallel and non-parallel volatility shifts
For advanced market-makers:
Dynamically-linked surfaces 'on-spread'
Cross-smile estimation via correlation (copula and change-of-numeraire)

All under control
Volmaster FX is specifically conceived for a highly dynamic environment. All relevant parameters are under trader's control. Volmaster FX is a trader's cockpit. It's flying instrumental. Any change of market parameters or option details is immediately reflected in the pricing and hedge greeks. Even when working with the solver. Volmaster FX has developed a user interface according to ergonomic principles: ease of use, responsiveness, clarity, visual appeal. So that traders can confidently and seamlessly operate Volmaster FX in a simple and direct way, while the complexity is managed under the hood.
Consistent bid/offer spreads
Volmaster FX integrates powerful techniques in order to compute a consistent bid/offer spread in any pricing scenario. Volmaster FX generates spreads by analysing the risk profile of options for as much as ten different risk-types. Volmaster FX bid/offer spreads are based on a scientific approach and provide a fair risk/reward profile. No matter how complex a portfolio of FX options may be, Volmaster FX will provide a fair bid/offer spread adequate to the risk profile.
Advanced Tools
Volmaster FX offers a number of powerful tools to streamline the pricing of FX options, all perfectly integrated into a consistent environment:
A Single Leg pricer
A Multi Leg pricer (up to 1000 legs)
A solver tool. Global solver and partial solver. Joint triggers and joint strikes solver.
A publishing tool. Modify easily option details in a MultiLeg environment by publishing over many legs at once.
A stripping tool. Generate strip of option legs in a MultiLeg environment by creating a set of rules.
A strategy tool. Generate pre-configured option strategies with semplicity in a controlled environment.
A charting tool. Plot the behaviour of the option price and its greeks.
Understanding your Risk
Appearances can be deceptive, especially when managing highly non-linear instruments. Volmaster FX allows traders to simulate the risk position resulting after pricing derivatives, including translational risk into their accounting currency. Running a ladder simulation or a spot/vol simulation to understand the dynamic behaviour of the risk profile ahead of trading a complex structure can be extremely important. Volmaster FX offers all the simulation tools typical of a position keeping system as a complimentary part of the pricer.
Integration Platform
Since Volmaster FX client-side software is run locally (in a virtual sandbox) it is easy to integrate the solution with existing tools and IT infrastructure. The integration platform makes sure that no sensitive information is transmitted outside the institution's firewall and can be configured very simply to achieve syncronization of volatility surfaces and mapping of counterparties and portfolios, among others. For organizations bearing advanced requirements, we offer a special Volmaster API that allows to benefit from the use Volmaster's computational technology (speed performance, accuracy, pricing and revaluing in advanced models) within the existing infrastructure.
Traffic/Rfq Functionality
The optional Traffic/Rfq functionality creates a real-time interactive environment for traders and salespeople, streamlining the operations. The feature implements strongly-defined sets of rules based on a number of risk measures and permissioning. A rich workflow enhances the responsiveness of market-makers to high-volume environments. Automated pricing requests coming from market platforms can be re-directed into Volmaster traffic/rfq system, unifying the flow to traders. Resulting tickets can be re-directed to in-house or third-party systems through Volmaster API.
Scripting Structured Products and User-Defined Derivatives
While Volmaster FX covers natively a very wide range of exotics, the FX derivatives market has a high pace of product innovation which can be better covered by introducing even more flexibility in the pricing system. Therefore, for advanced users, Volmaster FX offers patented internal payoff scripting tools capable of representing and pricing virtually any conceivable FX derivative. This feature allows users to price any highly structured product and strongly path-dependent option types, no matter how complex, in the advanced SLV and SLV+J models. The capability to define one's own derivatives and price them in a consistent framework endlessly expands the boundaries of the system.
This premium feature is subject to separate and additional licensing.
Request more information
Please contact us for further information about Volmaster FX pricer: info@volmaster.com